The Organization of the Fated Ones, also known as just the Organization, are the main threat of the Sea of Stars: The Grand Odyssey stories. The Organization is a group consisting of a growing amount of people that were chosen to join the Organization.
History
Unknown point of time
Some time in the far distant past the leader of the Organization discovered an ancient primordial tablet that they dubbed as The Script that predicted all future events and was essentially a guide to achieve a goal that not even the tablet itself knew. Surged with curiosity the leader began to act upon the tablet, completing it's directions in order to work towards his goal of fulfilling The Script's goal. He soon began gathering people of different races from different planets to join them in their quest to establish what most speculated was a new universal order, ignorant to the existence of The Script and it's contents.
Ranks
Kindern (Lowest Rank)
Kindern is the lowest rank in the Organization and is the rank most start at when first joining.
Ussun
-WIP-
Yarel
-WIP-
Quarv
-WIP-
Licht
-WIP-
Tlad
-WIP-
Munis
-WIP-
Ekho
-WIP-
Ziji
-WIP-
El/Ella (Highest Rank)
-WIP-
Members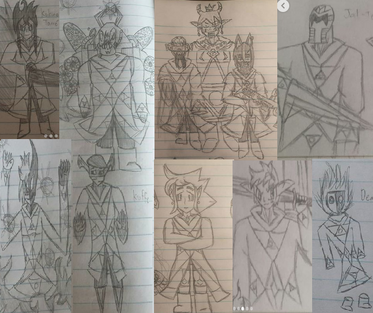 There are a nearly countless amount of members that are within the Organization's ranks. Below is a list of a few notable members.
Lacre
Mr. Kwarja
Skion
Güza
Jobea
Roi
Verkehr
Jas'n
Zepp
Kuffe
Deminte
Kudos
Allied Planets
Lavarre
Croa
Jidai
Takk El
Ylyss
Rurl
Ivatz
Etc.
Uniform
Most members of the Organization wear an orange robe with a multicolored diamond pattern in the middle that has triangular patterns coming from the 4 points. The cuffs of the sleeves have the same triangular pattern as well. Members of the Organization also wear brown boots made of a special material allowing them to work efficiently. While the robes do have hoods, most tend to keep it off due to a feeling of uneasiness entering them when putt the hood on. The robes automatically change size to the person wearing it.
More important and higher ranking members of the Organization will have their own custom designed robes that vary from person to person.
Certain members have different colored robes and custom patterns.
Misc.
Some members of the Organization were based off members of The Ten Wise Men from Star Ocean Second Story.
There are many rumors within the Organization on who the leader of the Organization was/is.

Some rumors say that the leader was a woman with long silver hair with one eye never closing and always staring, almost as if it could pierce a persons soul.
Other rumors suggest that the leader was actually a dark skinned male Prime Teralian that could erase anything from existence with their eyes.
Some members even suggest that the leader had their memory wiped and was now a regular Organization member unaware of who they used to be.
Gallery